In October, 1929, what was called The Great Depression had now been acknowledged by government officials. The Federal Government had become bankrupt![1] The dollar was almost a worthless piece of paper, and serious reform was instituted in an attempt to keep the nation from total collapse. President Roosevelt and his cabinet brought forth program after program to assist in the recovery attempt. The Federal Relief Program, [replaced in 1935 by] the Works Progress Administration, and others were put into effect.
The WPA program was supposed to put many to work, making men feel they were worth something and to work for what they got. Widespread stories were circulated telling of men spending their days leaning on shovels and other tools, having little or nothing to do. Most of the projects were cleanup and ditch-digging endeavors, which added little to the economy of the country overall.
The Relief Program, on the other hand, was a disbursing of food and clothing and other needed things for those unable to get a job, having no income at all. Foods consisted mainly of dried fruits, flour, and other staples, usually foods on a "surplus" list.
But I'm getting ahead of myself! The inability to pay those mortgage payments led many down the path to despair and into poverty. Homes were being vacated all over the country as grace periods for payments ran out. My folks were among those who had to give up their first and only home which they'd called their own.
For years stories were circulated about events surrounding The Great Depression, some humorous and some not funny at all! Many of these dealt with how people handled their losses.
Those who lost everything in worldly possessions responded in two ways. The families and individuals with spiritual backgrounds, those who relied upon God as the source of every-day needs, accepted their losses as something they could not change. They decided to seek whatever God had for them in their present state.
Generally, those who had more, lost more. And people who had little or no faith in the Living God sought the "easy way out" of their dilemma, usually by way of suicide. It became the leading cause of death among such people. They could not accept the "hard times" which would inevitably follow, feeling there was nothing left for which to live. Thank God my folks had a faith which was tried and tested, faith in the Living God!
Renting from the SDC Again
How Dad and Mom found the house they did, I don't know. They probably searched, inquired and prayed for God's leading. Eventually this led to an ideal house and location for a family with four kids and no income.
With the downfall of the nation's economy and the loss of value of the dollar, employers tried to hang on as best they could; but with few who could buy anything it wasn't long before there just wasn't any work or jobs available. [According to his 1930 census data, John, Sr. was still employed at the brick yard in April of that year.]
[By October, 1930[2], we were] back [on the land owned by] the Sanitary District of Chicago, just one block north of where we lived before moving to the new house in Stickney, [but still in] a fairly new house. It was the only one on the block, located just off the corner of 41st and Highland Avenue, 4109 S. Highland Avenue[3]. Apparently the Sanitary District of Chicago owned all the homes in that area [True. The SDC had purchased almost all of them by 1926; the last few lots being consolidated in 1927 (see our Appendix M for all the details)], and they figured any kind of income received in renting them was better than nothing[4]. God had been good to us in leading us there!
It is true that this meant country living once again with the outhouse, no running water on the premises, dirt roads which became nearly impassable when the rains came, etc. But it was a place to live, and for that we were grateful!
If you've heard the expression "misery loves company," you'll know what I mean when I tell you we had plenty of company in this area. Though not very large in a geographical sense, the community's homes were well separated. Some of the blocks had no homes at all, ours being the only one on our block. There was no fear of running over someone's property lines, plenty of room to run and play. So in reality, there was no "misery" with which we had to contend!
This is a photo of John's third home in Stickney; taken in 1925 (so, 5 years before his family actually
moved into it). The man was an SDC employee explaining to a resident why they were taking photos
of the house (what he was told to say to the owners of all these homes is currently unknown):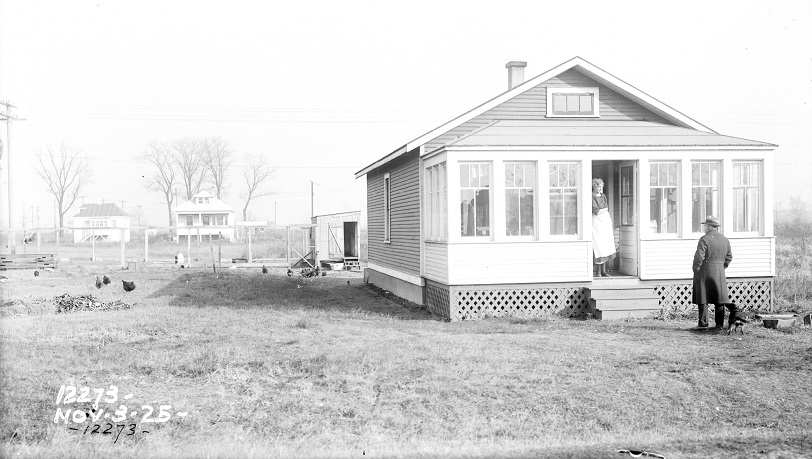 Click to Enlarge. Photo of John's third home in Stickney; November 3, 1925. Used by permission of the copyright holder:
The Metropolitan Water Reclamation District of Greater Chicago; cannot be displayed anywhere without their permission.
New discoveries were made daily: fields in which to play, ditches, trees, high weeds to play and hide in, and strawberries growing right alongside a ditch near to the house, excitement at every turn. So what was previously considered a disaster, the Crash of '29, was turning out to be real fun for us kids.
That first summer we kids spent our time enjoying newfound surroundings and new friends. Even though we'd lived just a block away from here a couple years before, it was as though we'd never lived so freely before. I think it had a lot to do with our advanced ages, the couple years making just enough difference to add appreciation to our lives.
The new acquaintances would be our schoolmates. These would be friendships which would last for many years to come. So it wasn't just the freedom and the excitement of discovering our surroundings that intrigued us. Everything seemed to fall into place.
Earlier I told of the surplus supplies available under the Relief Program and how they were merely dried fruits, flour, etc. What I forgot to tell you is that Mom was a fabulous cook and baker. From those seemingly insignificant supplies, she made the most delicious meals and bakeries one could imagine. I'm sure there had to be kids living at that time whose folks were better off financially than ours, but I can be certain they didn't know what good cooking and baking was compared with what Mom put together for us. Whatever clothing we'd get also came from the relief program.
For years Mom baked breads and bakeries for others who asked for her recipes. She in all honestly told them she had none. She just took a pinch of this or that and added a cup of whatever, etc. But I never recall not wanting to devour whatever she made for us, and I'm sure those who were recipients of those foods and bakeries agreed fully with me on that!