Streator and Grandpa Sedory's Family
Every family consists of a father and a mother. In order to prove I was not hatched, I want to begin with my real-life father and mother: Dad and Mom (actually in later years she was always "Ma") lived in a town located about 90 miles or so southwest of Chicago: Streator, Illinois. They both were children of parents of Slovak descent.
[Editor's Note: There had been a friend or possibly distant relative of the family in Slovakia who rather than being dismayed by Magyarization (Slovaks expected to adopt Hungarian national identity and language), accepted it to the point of writing a book claiming that all the "Sedory" families living in Slovakia (there were quite a few at that time; both Lutheran and Roman Catholic) and many others with similar names, had Hungarian roots! And, of course, he wrote his book in Hungarian. Furthermore, although it can be shown that the surname Sedory in the USA could have been derived from its Hungarian equivalent; all official records at that time (from about 1844 to 1918) having been written in Hungarian (see explanation under Footnote 3 below), the name "Sedory" (with the same spelling we use here) could still be found in a 2005 Slovak phone book from the same area the Sedory families came from. So, our existing surname is one way it may have been spelled in Slovak; minus any possible accents! ]
Dad was the third oldest in his family, having a half brother George and a sister Anna who preceded him. George was the only child of Jur ("George") Novotny (Sr.) and Zsuzsanna ("Susanna" or "Susie") (Vanta)[1]; about 23 months into their marriage George Sr. died in a coal mine accident on September 23, 1890.[2] Susanna married George Sedory[3] at a later date [April 5, 1891; five months after George Novotny Jr. had been born].





April, 1891. Susanna and George Sedory
(holding George Novotny on his lap), and
Susanna's sister, Mary [Vanta] Antolik.
(Photo scan provided by Alan Post.)
That marriage brought six children: Anna [3-27-1894; Anna Novotney], John ("Jack" - my Dad [October 24, 1896]), Mary [5-17-1899; Mary Post], Emma [4-30-1902; Emma Hritz], Susanna (1-7-1905; Sue Newby) and Margareta (6-29-1908; Margaret Brassfield). My Uncle George [or "Bill"] still carried the Novotny [no 'e'] name.
Editor's Note: Both the date and location of the following photo of George's Girls is unknown. However, Margaret appears (to this editor) to be no older than 3. If we assume it was taken at the end of June, 1911, Margaret would have just turned 3, and Anna would be 17 and atill single (she was married on September 9, 1912). Using those assumptions, I've added the ages for the Girls in parentheses. So (from Left to Right) we see Emma (9), Anna (17); Margaret (3) below Anna, their mother Susanna (42), Mary (12) and Sue (6):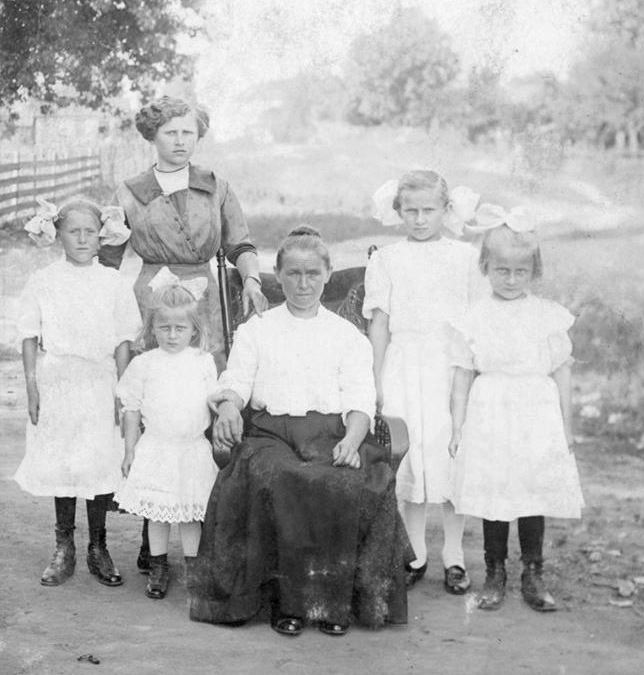 (Photo scan provided by Matthew Schademann, 2016.)
The photo below shows all of George's family; except for Susanna's son, George ("Bill") Novotny. It was taken about 1917.
Back row: Emma and Mary; Middle: George, Margaret, Susanna; Front row: Sue (standing), Anna (sitting with her daughters, Viola and Evelyn—rubbing her eye), and John (your Editor's Grandfather):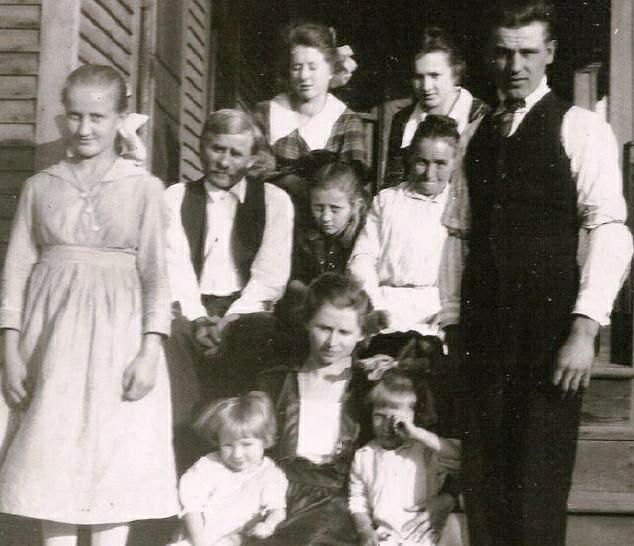 (From a copy of the original photo.)
This next photo had only "Around 1917 or 1918" on back. For the ages in parentheses, we've assumed a date of April 30, 1918.
Standing (Left to Right): George in uniform (27-1/2, known to his nephews and nieces as "Uncle Bill"), then Emma (16), John (21-1/2) and Sue (13-1/3). Seated: George (49-2/12) and Susanna (49-2/12), and kneeling in front, Margaret (9-10/12):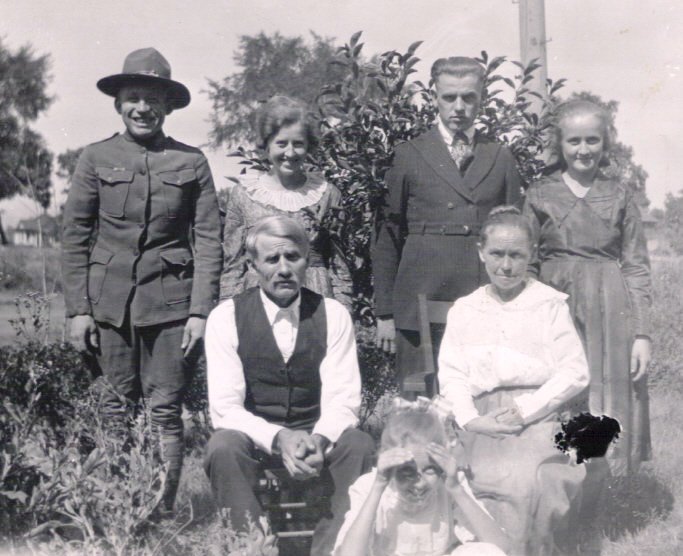 Note: Neither Anna (24-1/12) nor Mary (18-11/12) are in this photo.
Here's a photo of the author's father with all 5 of his sisters at a much later date [we're still attempting to set an exact date for this photo, but ages in parentheses are based upon March 27, 1964 for now]; from LEFT to RIGHT, Emma Hritz (62), Margaret Brassfield (56), John ("Jack" ) Sedory (68), Anna Novotney (70 that day!), Mary Post (65) and Sue Newby (59):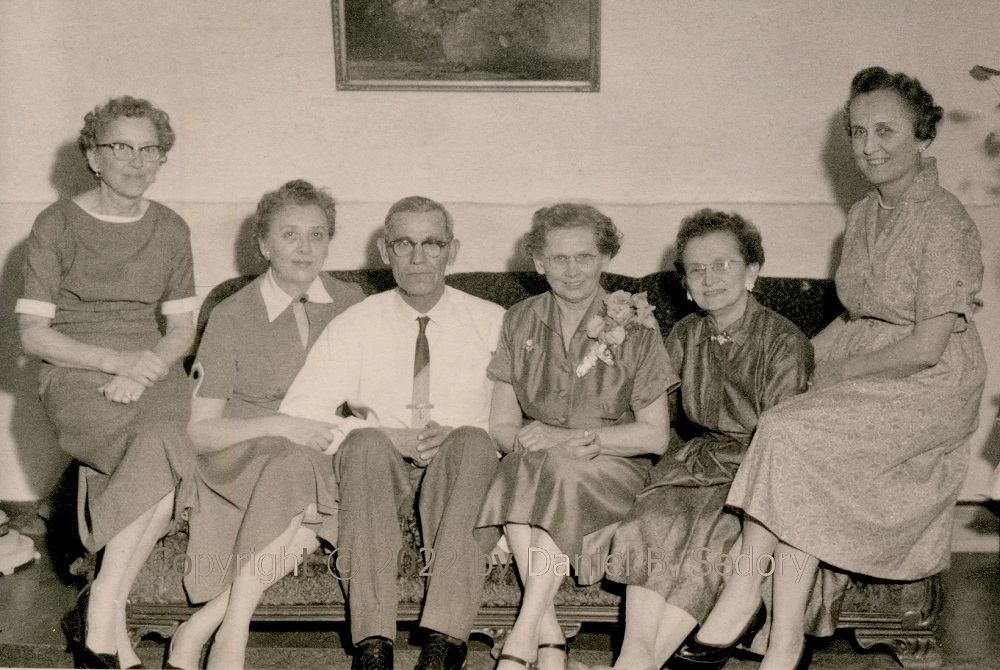 The Vagaskys
Mom was the eldest of four kids in her family: Mary [my Mom; December 9, 1903], Anna [3-7-1907; Anna F. Bazik], Elizabeth [3-25-1909; Elizabeth Dobrik] and the only boy, Thomas (Uncle Tom) [9-22-1915], all members of the Vagasky clan.
The following two pictures show the author's mother, Mary Vagasky (Far Right in first photo and 2nd from Right in second one) having some fun with a few of her friends at the "American Bottle Field" near the SantaFe RR tracks and Bronson Street in Streator, IL. If these were taken in the Fall of 1920, she would have been only 16 years old; about to turn 17 in December. And by Spring of the next year, she married my Grandfather at only 17.
[Editor's Note: For anyone interested in the other 3 girls in these photos, here's what's written on the Back of the Car Photo. I've been able to identify the first one as: Mary M. "Bunsy" Harcharik Wargo Malik as she's listed on her memorial page. But I have no idea who the other two are yet.]
Mom and Dad's Marriage
Dad was seven years older than Mom. They both attended a Slovak Lutheran Church, as did all the family members. From what I can recall, they met at some sort of church affair, picnic or social perhaps. They must have hit it off, as they eventually married on May 26, 1921.
Early Siblings, Origin of Author's Name
Philip Andrew became the firstborn to John and Mary Sedory on November 6, 1921. Later, on March 29th, 1923, along came John Daniel, the trouble-maker who's writing this. Next came my sister Mary Elizabeth (who took on "Marie" later in life) on June 15, 1924. We were still living in Streator, Illinois, possibly now at a home our grandparents owned which was located on a lot adjoining their home.[4]
My name, John Daniel, was quite evident in its origin since the baptizing pastor was Reverend John Daniel,[5] pastor of the Slovak Lutheran Church in Streator.
Old Number 3
About ten years later [some people wanted to take] that old church ... to the Chicago World's Fair or The Century of Progress as it was called. The church was something like [50] years old and had historic value.[6]
I know I was either the last baptism in the old church or the first in the new one, a church which was either built new or bought as an existing building, I'm not certain. The old church was located in a section of town called "Old Number Three[7]." The newer one may have been in the "Painter's Addition" section, or at least near to it, since Grandpa and Grandma Vagasky lived in that section and weren't that far from it [about 1 mile SE of their home].
In Slovak, Grandpa and Grandma Vagasky were called "Dzedo" and "Baba" [Note: A recent Slovak dictionary, uses the word dedko for Grandpa, and babička or babka for Grandma; stating that baba is now derogatory, with 'old woman' being its nicest translation. However, in an online poll at a Slovak genealogy group, many there recall using baba for their grandmothers here in the USA.] In my many years of visiting there I never called them anything but those names, nor did my sister or brothers, as I recall.
Often Self-Conscious about His Nose
Since we lived in the house at the bottom of a slight hill, and since I was just a youngster, I was told for years that I often fell flat on my nose going up and down that hill. This was supposed to be where I got my larger, flatter nose. As much as I might have liked to believe that story, I'm afraid the truth to the matter is that I inherited it from my Dad's genes. We had almost identically shaped noses—something I considered less than flattery all my life, but something about which there was little I could do. Little, that is, outside of having had an operation in 1971 for a deviated septum and having some corrective surgery done to the shape of my nose as well. The problem with that surgery was that the doctor and my wife decided it wouldn't do to make my nose too small because of my larger face and features; and it turned out less than what I'd hoped for. It became a lot less flat on the tip, but in straightening it out, the surgeon extended it upward. So in reality it became longer, yet not all that small. Oh, well, that's the way it went and I can't change it. Maybe God knew I'd be too vain to handle looking as normal as most people do!
Slovak
You have to know something about our grandparents in order to appreciate some of the things I'll be relating to you. They were both of Slovak descent, from Slovakia. And that was their primary language for communication. In Streator this was no problem, for it seemed almost everyone spoke Slovak or Polish, which had some similarities. Or maybe it was just that the people I'd see while there on vacation were accustomed to speaking in their foreign tongue.
Later on in the book I want to relate many of my memories of those vacations at Baba and Dzedo's home at 816 Jackson Street, Streator, Illinois.
Grandma Sedory (1925)
You will notice I've concentrated on Dzedo and Baba Vagasky, while saying almost nothing about Dad's folks. The reason for this is the fact that Grandma Sedory passed away when I was very young [2 years old], so I don't remember her. She was supposed to be quite a woman!