It was at this time in my life I first began to put two and two together to come up with four. What I mean to say is that for the first time in my life I could begin to think back to this time in my life as my first recollections. It's as though I can literally "see" myself in that new setting with the ability to recall some of those times, literally "first recollections!"
The [next] house into which we moved was located in an area called the Sanitary District of Chicago[1]. It wasn't actually a town as such, but it was property owned by the City of Chicago [actually, the Illinois state government] which bordered on its canal, The Chicago Drainage Canal, and its plant for processing (treating) the raw sewage.
The "town" was bordered on the northeast by Cicero, Illinois, on the north by Berwyn, on the west by Stickney, and on the south by Forest View. Directly to the east was the processing [water treatment] plant owned and operated by the [Sanitary District of Chicago].
Stickney and Forest View actually continued on south of the Drainage Canal, but the separation by the canal was so great that it was like living in different communities. The only connection with those areas existed via our school district when officials from that side of the canal came over for things such as plays, graduations, Christmas parties, etc.
The house[2] we found [at 4212 Highland Ave.] may have been new, being raised above the ground three or four feet. As much as I can recall today, it must have been a better house than the one we left in Chicago. It surely had some better features as far as we kids were concerned, such as: empty fields, blocks without houses on them, and plenty of space to move about.

1927. Front of house rented from the SDC by John ('Jack') Sedory on the north 80 feet of Lot 34, E. A. Cummings Subdivision,
Stickney, IL. Pictured (from left to right) are: Philip, Edward, John ('Jack') Sr., John and Marie Sedory.



Click to Enlarge. Photo of John's first home in Stickney; November 3, 1925. Used by permission of the copyright holder:
The Metropolitan Water Reclamation District of Greater Chicago; cannot be displayed anywhere without their permission.
There were some things which weren't "too great," however. One was the fact we only had an outhouse, no inside toilet facilities. Secondly, our water supply was a couple streets away at the Little Red Schoolhouse[3]. Throughout [this book] I [will be] calling this the Little Red Schoolhouse for lack of a better name. The only name I recall today is that it was "District number 110" (I believe).
When water was needed, most people who lived there carted it from the school in five or ten gallon milk cans, usually by wagons pulled by hand. A couple of the residents had autos or trucks, and for them it was no big deal. But for us it meant trudging through mud, ditches and rutted paths pulling two of the milk cans at a time. At age four plus to age five, I doubt I'd been able to do much with those cans, but years later when we returned to this community, you can be sure I pulled many loads from that schoolhouse!
Outhouses to this day bring much country humor, but to those of us who lived there and made that trek in all kinds of weather, it was no picnic! This was especially true when on cold, windblown days and nights the call to nature came. On exceptionally cold nights I know those trips were often postponed. By "the trip" I mean the distance from the house to the outhouse in the back yard, quite a way to go.
At this point in time there was a little human growing into boyhood with some very bad habits, such as throwing small, heavy toys at kids who didn't cooperate with me. This was the beginning of making tracks into life that would carry on into adulthood, the sore loser, the quick temper, not keeping friends, etc.
In throwing my toys or other objects, all too often I found my targets, and I later paid the price for my poor behavior. Dad was a disciplinarian who seldom hesitated to take appropriate action quickly and forcefully. You'd think I'd have learned to hold off the next time, but I didn't!
As I'm writing this and looking back at those years, I realize how much of what we grow up doing and thinking follows us the balance of the days of our lives. Even now I'm a sore loser, and I still throw things; but being more sophisticated, I only do it mentally. I hope you didn't suffer that same handicap in your lifetime.
Of course, today I have the fear of the Lord in my heart and mind, and I've grown spiritually to the point I can control (somewhat) my temper and all that goes with it. Nevertheless, those memories of the past are with me to stay!
---
---
Footnotes
1[Return to Text] Technically, incorrect. The author believed this phrase referred only to the land owned by the 'water treatment plant' (which, by the way, is part of the Village of Stickney). But that phrase (now called the Metropolitan Water Reclamation District of Greater Chicago), actually refers to the whole area for which sewage service was provided by the Illinois State government. Thus the property was actually owned by a government entity created by the state ("it is not a part of the City of Chicago's local government, but an independent agency of state government"). Click on the "History" link at www.mwrd.org for a nice summary.
2[Return to Text] This first house our author's family lived in on the SDC land had in fact been owned by (and subsequently rented by) Richard and Jane Schoenfeld. It was purchased by the SDC in December, 1925 as noted on page 1451 of the 1925 Proceedings of the Board of Trustees of The Sanitary District of Chicago "consisting of a 4-room frame cottage and garage." The Schoenfelds were listed (on pages 1438 and 1444 of the 1926 Proceedings) as paying rent through August, 1926, then on page 47 of the 1927 Proceedings of the Board of Trustees of The Sanitary District of Chicago we find this entry:
LAND REVENUE ......................................... 12.00
Received from John Sedory as rental of
north 80 ft. of lot No. 34 for house and
lot for month of Oct., 1926, in E. A.
Cummings Subd.
So the author's family moved into this house no later than October, 1926. Lot Number 34 was two lots south of 42nd Street, on the west side of 63rd (or Highland) Ave. (looking at the "Lot Number Map" we created at the bottom of the next footnote, it would be south of Lot No. 36).
3[Return to Text] In Chapter 14, the author tells us this school was later called the "Douglas MacArthur School" (surely named after the World War II General, but questions remain: As to the when, we first only knew it was sometime before his death in April, 1964. Then, we were surprised to find it was called the "MacArthur School" as early as 1944, long before the end of WWII in Europe - see the newspaper article in Appendix D which states that Philip attended the Haley and MacArthur Schools); though we guessed it might have been because he had returned to the Philippines shortly before that. Now, we have evidence from the 1942-1943 Directory of Cook County Public Schools, that it was called "DOUGLAS McARTHUR" [sic] as early as, "November 17, 1942" (or sooner). But, the 1940-1941 Directory..., simply refers to the school as "NORTH STICKNEY". Unfortunately, we've been unable to find the 1941-1942 Directory...! So, why exactly did it receive this name? Possibilites include: In 1919, he became one of the youngest Superintendents of the United States Military Academy and brought about sweeping changes in how West Point graduates were trained. He also became the youngest major general in 1925. In 1927, while still an active Army officer, he was elected president of the American Olympic Committee. In 1930, he became Chief of Staff of the United States Army, with the rank of general. But he was involved in controversial and political problems during the 30's, criticized pacifism and socialism and had issues with President Roosevelt. In 1935, he went to the Philippines for his 5th tour of duty there, and on 31 December 1937, actually retired from the Army! But on 26 July 1941, Roosevelt recalled MacArthur to active duty as commander of all US Army forces in the far east! IF THE SCHOOL was given his name in 1941, this and earlier achievements would likely be why. But if the naming wasn't initiated until 1942, it may have been due to his "I shall return" speech in Australia, certainly picked up by American reporters, and becoming 'Father of the Year for 1942' was also a plus. But without any further information, take your pick.

From an article on page SW1 of the Chicago Tribune, October 13, 1963 by Robert Hawkins [kindly provided by staff of the Stickney-Forest View Public Library], we found a number of interesting facts: 1) "The property, bounded by Ridgeland and Cuyler avenues, and 39th and 43d streets,..." was owned by the "Sanitary District (of Chicago)," 2) there was a school called "MacArthur" at the corner of "41st Street and Cuyler Avenue," 3) that it had been leased to "School District 110" [confirming our author's memory of that] but was "no longer [being] used ... as a regular school," 4) it was only a "three-room schoolhouse," and 5) the building "...would have reverted to recreational use for the Village of Stickney upon ... expiration of the lease." So this corroborates the author's description of the school being rather close to where he lived, and that it had only 2 or 3 rooms. Note: Either a third room was added at a later date, the news article got this wrong, or perhaps the author was only counting the number of classrooms and a 3rd room was used for other purposes; we know there were bathrooms, etc. not being counted.

Regarding when the school was constructed, we knew it had to be prior to 1926, since the 1926 Proceedings of the Board of Trustees of The Sanitary District of Chicago states on page 57 (also cf. pages 209-210):
"Lot nineteen (19) and Lot twenty (20)—to be purchased from the Trustees of Schools of Township No. 38, North, Range 13, east of the third Principal Meridian, for use of School District No. 110 in Cook County, State of Illinois, $4,000 to be paid for said lots and $25,000 for the improvements thereon consisting of a 1-story and basement brick and frame school and a frame storage shed—a total of $29,000."
And with no mention of any name for the school. In fact, as far as we have been able to determine, the only time these 'Proceedings' ever began mentioning a name for the school was in the 1968 Proceedings, page 710, where it states, "...known as McArthur [sic] School for Retarded Children." We also found it referenced as such in the 1970 and 1971 Proceedings, pages 1286 and 1165, respectively, and indexes (all with the same misspelling noted above). Only in those 3 file years was it ever mentioned using a name.
Douglas MacArthur School, December 12, 1961 (4100 Cuyler Ave., Stickney, IL)

Photo shows north (doors) & west sides of the bldg. from 41st St. The road with
2 phone/power poles visible (west side) was an un-named alley; on the east side
of the building was Cuyler Ave., also referenced as 63rd Court on early maps.
However, the 1969 booklet titled, Pioneers of Progress, . . . the history of STICKNEY TOWNSHIP, contains the statement: "By 1918, however, the facility was outgrown and the three room bungalow-type school which we now know as the Douglas MacArthur School - named for the famous general - began its operation at 41st and Cuyler avenue with fifty pupils." (Page Thirty). This fits nicely with someone who wrote on the back of a photo: "Opened 1919 school-year".
When was the sign placed on it? In May, 1967, a pamphlet commemorating a reunion of early students of the school used "Little Red School House" as the name of the school. Yet a number of old pictures from the 1950's and later, have a large sign on it, declaring it to be the "DOUGLAS MAC ARTHUR SCHOOL" as shown here, in one of the last photos ever taken of it in 1979; shortly before it was burnt down by the Stickney Fire Department: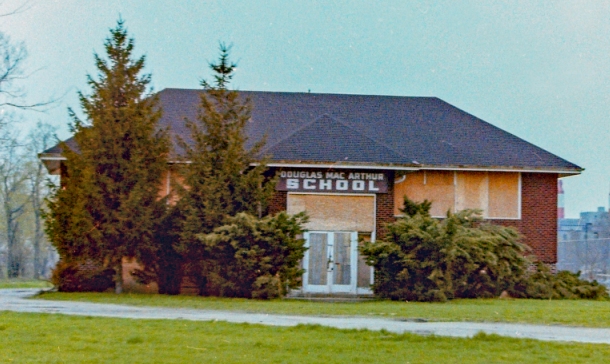 Photo taken by Michael A. Holub (May 6, 1979); used by permission.